We Look Forward
To Welcoming You And Your Family
To Our Comfortable,
State-of-the-Art Family Dental Office.
Your Comfort Is Our #1 Priority.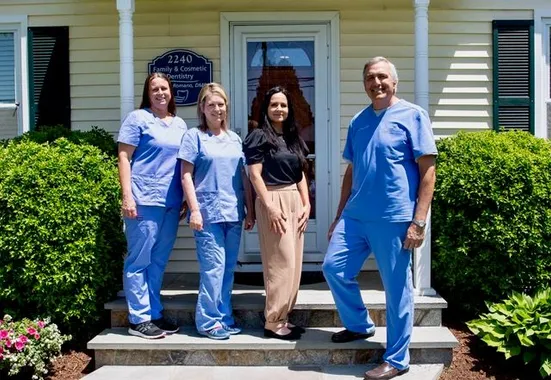 Top Dentist Bridgeport, CT
dentist Fairfield, CT and surrounding areas
Here at Romano Dental, we pride ourselves on making dentistry a pleasant experience and treating everyone with sensitivity and respect. Our focus is to create healthy, beautiful smiles in an environment that is comfortable and welcoming to you and your family. We are committed to providing you with the highest quality, most advanced dental treatment in the most gentle manner possible. We believe in the benefits of regular preventive care, and therefore, encourage all our patients to return for regular checkups.
Our modern office is state-of-the-art and offers a wide range of dental treatments, including preventative and periodontal (gum disease) procedures, dental implant restoration, reconstructive dentistry (dental crowns and dental bridges), cosmetic dentistry restorations (bonding, porcelain veneers), extractions, root canal therapy, dentures, bleaching, and Invisalign (Clear Braces). Nitrous Oxide (laughing gas) is also available for adults and children alike.
Our family dentistry office offers a warm and personal environment designed for everyone's comfort. Each room is equipped with TV, SiriusXM Radio, Pandora Music. So you can sit back, relax and watch your favorite TV show or listen to your favorite music during your appointment, all with noise-canceling headphones. You are in control. Your comfort is our number one priority!
Please call our team today for a happy, healthy smile.
2023 Dentist of the Year Recipient
Congratulations to Dr. Frank J. Romano for being selected as Dentist of the Year by the Bridgeport Dental Association on May 18th, 2023 at the Brooklawn Country Club! He was thrilled to be selected for this honor by his colleagues in Fairfield, Bridgeport, Trumbull, Stratford, Easton, and Shelton at the Annual Bridgeport Dental Association Dinner. Congratulations to Dr. Romano and his top-notch staff! You deserve it!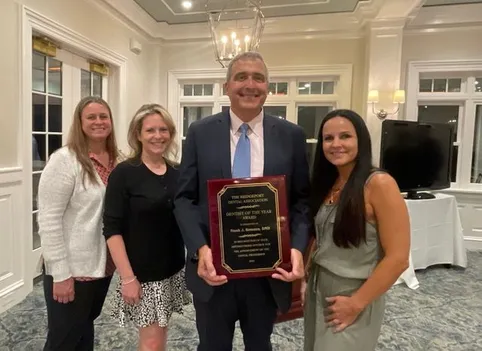 ---