Advanced Technology Offered By Your Bridgeport, CT Dentist
When you seek care at our office, you are assured that Dr. Romano and his staff utilize the latest in technology to enhance the quality and fit for your dental care. New advances include Laser Cavity Detection (Diagnodent), Laser Therapy for Gum Disease, Digital X-Rays, Intraoral Camera, Laser Teeth Whitening and ITero Digital Impressions.

Digital X-Rays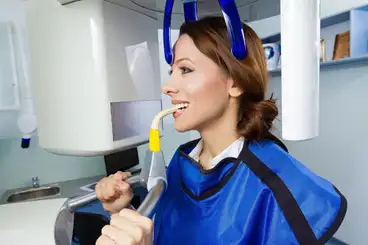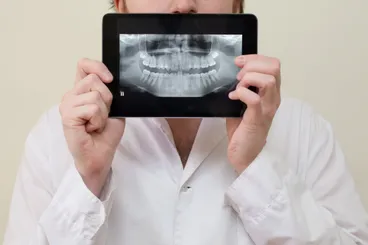 Dr. Romano chooses carefully which and when radiographs are taken. There are many guidelines that we follow. Radiographs allow us to see everything we cannot see with our own eyes. Radiographs enable us to detect cavities in between your teeth, determine bone level, and analyze the health of your bone. We can also examine the roots and nerves of teeth, diagnose lesions such as cysts or tumors, as well as assess damage when trauma occurs.
Dental radiographs are invaluable aids in diagnosing, treating, and maintaining dental health. Exposure time for dental radiographs is extremely minimal. Dr. Romano utilizes Digital Imaging Technologies within the office. With digital imaging, exposure time is about 50 percent less when compared to traditional radiographs. Digital imaging can also help us retrieve valuable diagnostic information. Digital X-rays offer more precision since we view the image on a computer monitor, instead of holding up a small film up to the light. We are able to see cavities and other pathology better.
Digital imaging allows us to store patient images and enables us to quickly and easily transfer them to specialists or insurance companies.

Intraoral Camera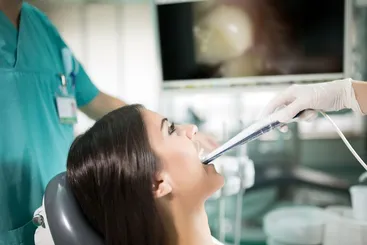 Many patients, especially younger patients, are very familiar with the latest technology and are comfortable with high tech practice. Computers and TV screens are their primary method of information processing.
Dr. Romano utilizes intraoral camera technology that helps enhance your understanding of your diagnosis. An intraoral camera is a very small camera – in some cases, just a few millimeters long. An intraoral camera allows our practice to view clear, precise images of your mouth, teeth and gums, in order for us to accurately make a diagnosis. With clear, defined, enlarged images, you see details that may be missed by standard mirror examinations. This can mean faster diagnosis with less chair-time for you!
Intra oral cameras also enable our practice to save your images in our office computer to provide a permanent record of treatments. These images can be printed for you, other specialists, and your lab or insurance companies.

ITero Digital Impressions
For some people, a hyperactive gag reflex can be a real problem at the dentist's office. Although other dental procedures can trigger gagging, it is mostly an issue when your doctor needs to take those goopy impressions of your teeth for appliances, crowns, bridges, implants, etc.
At our office, we are fortunate enough to have at our disposal an intraoral scanner that allows us to digitally capture teeth for Invisalign trays, crowns, and bridges. We no longer have to subject our patients to the inconvenience of taking impressions. Our state-of-the-art ITero Element Scanner is a digital impression system that eliminates the need for messy putty in your mouth. We can digitally capture a detailed 3D model of your teeth and gums. During the impression process, you can breathe or swallow as you normally would. You can even pause during the process if you need to sneeze or just want to ask a question. Not only is this process far more comfortable than the old putty based impressions, but it's faster and can offer a superior clinical endpoint.
No goop or gagging to worry about.
Fast, accurate impression.
Ideal for crowns, bridges, implants, and Invisalign® clear aligners and retainers.
See a simulation of your potential Invisalign treatment outcome. The simulator will show you what your new smile might look like.
If you have any questions or to schedule an appointment with Dr. Romano: