(IN OFFICE AND OPERATING ROOM)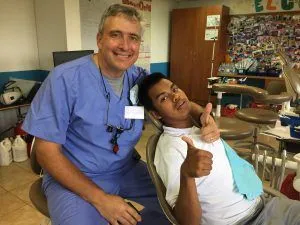 Special Needs Dentistry in Bridgeport, CT

Dr. Romano provides dental care for children who have Downs Syndrome, Cerebral Palsy, Autism and other physical and developmental disorders as well as for adults with disorders such as Alzheimer's, Dementia or Parkinson's. Working with patients with special needs requires Dr. Romano and his staff to have increased awareness and attention during all dental procedures creating a positive dental home in our office serving the Bridgeport, Fairfield, Trumbull, Stratford and surrounding communities.

There are times when the health and interests of the patient are best served by providing dental treatment under anesthesia in an operating room setting. This occurs most commonly with children and adults with special medical, physical, developmental or cognitive conditions that limit their ability to receive routine dental care in a traditional office. Because of Dr. Romano's affiliation with Danbury Hospital (Western Connecticut Healthcare Network) and Bridgeport Hospital (Yale New Haven Health), he is uniquely equipped to provide treatment in an operating room with appropriate anesthesia support. Dr. Romano and the hospital staff are specially trained and experienced in providing this type of care.
Dr. Romano, Vice Chairman of Dentistry, has been working with special needs patients since completing his residency at Danbury Hospital in 1989, where he is the director of the Operating Room Dentistry Program. He considers this the most rewarding part of his profession.
Dr. Romano is an active member of the Special Care Dentistry Association and the American Academy of Developmental Medicine and Dentistry. He also volunteers for SPEAR Open Wide Foundation where he has provided dental care for special needs patients of Guatemala. See Photos.
For more information about Special Needs Dentistry or to schedule an appointment with Dr. Romano:
Who says dental visits can't be fun.
Sometimes all it takes is a selfie!