Dr. Frank J. Romano
Dentist Bridgeport, CT | Dentist Fairfield, CT
2023 Dentist of the Year Recipient
Congratulations to Dr. Frank J. Romano for being selected as Dentist of the Year by the Bridgeport Dental Association on May 18th, 2023 at the Brooklawn Country Club! He was thrilled to be selected for this honor by his colleagues in Fairfield, Bridgeport, Trumbull, Stratford, Easton, and Shelton at the Annual Bridgeport Dental Association Dinner. Congratulations to Dr. Romano and his top-notch staff! You deserve it!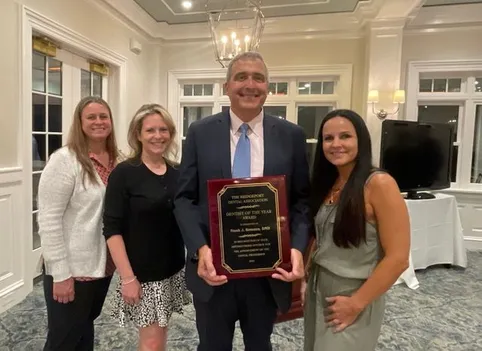 Since 1993 Dr. Romano has provided all phases of general and cosmetic dentistry for adults and children. He was selected as "Best of Fairfield County" in 2020 and one of "America's Top Dentists" from 2017-2020 by the Consumers Research Council of America.
Education
Fairfield University, BS 1984
Fairleigh Dickinson University School of Dental Medicine, Doctor of Dental Medicine 1988
Danbury Hospital Department of Dental Services, General Practice Residency 1989
Fellowship in Special Care Dentistry, SCDA
While at Fairleigh Dickinson University, Dr. Romano was awarded a teaching fellowship in both endodontics and complete dentures. He completed a General Practice Residency in 1989 at Danbury Hospital in Advanced General Dentistry with special emphasis in emergency, restorative and surgical dentistry. Treating patients with special needs was another major component of his training. In 2020, he was awarded a Fellowship in Special Care Dentistry by the Special Care Dentistry Association. Dr. Romano also serves as a consultant for the American Dental Association's Commission on Dental Accreditation for general practice residency programs.
Dr. Romano is Vice Chairman of the Department of Dentistry at Danbury Hospital. There he provides direct patient care and supervision of the dental residents. He teaches and lectures the residents on various general dentistry topics, including treatment planning, practice management, emergency care, root canal therapy and restorative dentistry. Dr. Romano served as the Director of the General Dentistry Operating Room Program at Danbury Hospital, where he provided comprehensive dental care to special needs and handicapped adults and children with the assistance of the dental residents. Presently, Dr. Romano is Section Chief of the Department of Dentistry and Oral and Maxillofacial Surgery at Bridgeport Hospital where he provides comprehensive dental care to patients with special needs in the operating room. Caring for patients with special needs remains a passion for Dr. Romano.
Dr. Romano volunteers for the Open Wide Foundation which operates the SPEAR Dental Clinic in Peronia, Guatemala. Dr. Romano has completed many service trips to Peronia where he treats special needs patients in the community. The Open Wide Foundation awarded Dr. Romano an Ambassadorship in 2019 in appreciation of his work with special needs patients in Guatemala. See Photos.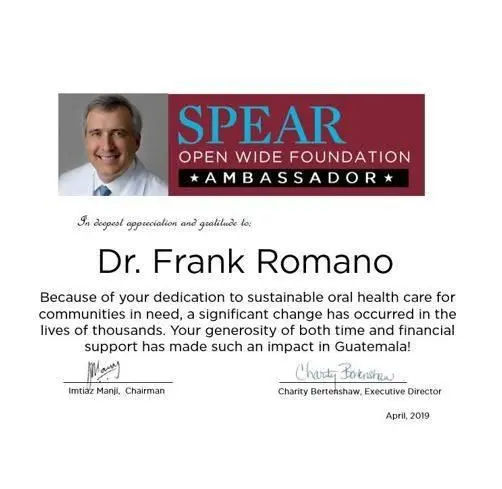 Dr. Romano served as a forensic dentist for DMORT (Disaster Mortuary Operational Response Team), a federal government disaster response team, which helps identify victims of natural or other disasters.
Dr. Romano is a member of the American Dental Education Association, Special Care Dentistry Association, and American Academy of Developmental Medicine and Dentistry.
ARE YOU READY TO SMILE WITH CONFIDENCE AGAIN?
If you have any questions or to schedule an appointment with Dr. Romano: